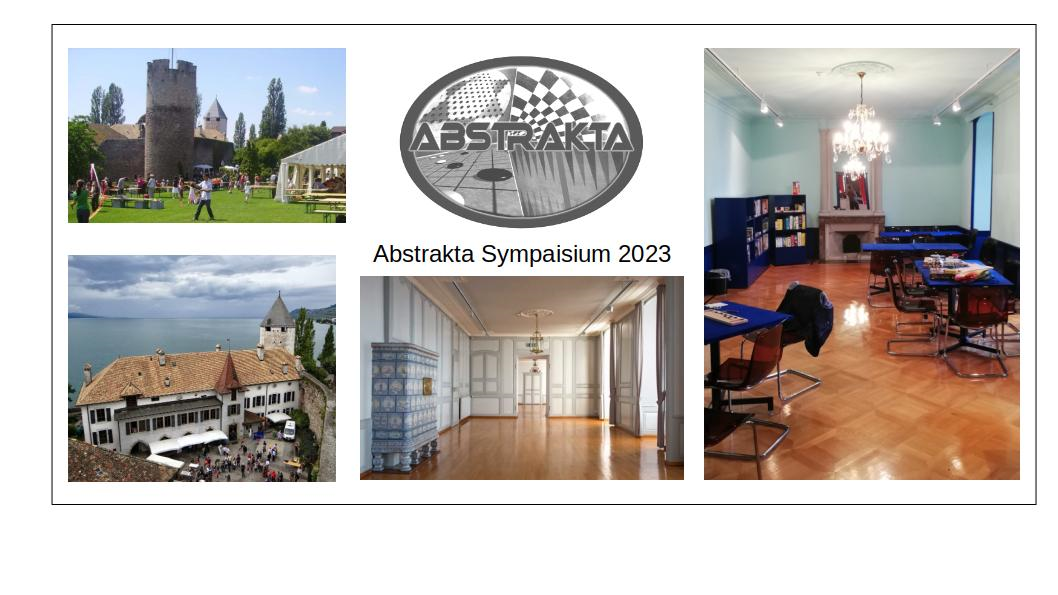 Abstrakta Sympaisium at the Swiss Museum of Games
(* Symposium comes from the Greek "to drink together" (in Greek the root "syn" means together
and the root "po" means to drink). On the other hand,
the root "paiz" means to play, therefore I invented
the word "sympaisium" ;-))
After that event many people asked when it would be
organized again.
Now there is finally an answer: 13-15 October 2023,
in the beautiful location (castle with park on the
lake) of the Swiss Museum of Games
(
www.museedujeu.ch
)! You can reach it in about 1
hour by train from Geneva airport (see www.cff.ch).
Provisional program
Day 1 (Friday 13 October)
15-20 arrival of players and free games
Day 2 (Saturday 14 October)
9-12 talks on abstract games (with interpretation to English)

°

Erika Roldan

(Max Planck Institut MiS and ScaDS.Al Leipzig): Mathematics and computer science behind games and puzzles
°

Etan Ilfeld

(Mind Sports Olympiads): Mind Sports through Games and Learning how to Learn

°

José Luis Segura

(International School of Strategy Games Luis Vives, Mallorca): Juegos abstractos en la Escuela Internacional de Juegos de Estrategia - Abstract games in the International School of Strategy Games
°

Alessandro Rizzi

(Univ. Milano): What about color blind abstract gamers ?

°

Emil Danielsen

(game designer, Norway): From Entropy to Entertainment: Foundational requirements of a well designed abstract strategy game
°

Nicolas Déhon

(Swiss Backgammon Association): Le Backgammon, jeu multimillénaire révolutionné par les réseaux neuronaux - Backgammon, millennial game revolutionized by neural networks

°

Simone Paganoni

(game designer, Italy): Terxo, a 3D tic-tac-toe wit some twists
°

Cesco Reale

(Swiss Museum of Games): on the definition of abstract strategy games
14-17 explaining abstract games to the public
17-18 visit of the museum (by Cesco)
Day 3 (Sunday 15 October)
10-12 blitz multi-game Abstrakta championship
14-20 free games and departure
Outreach
On Day 2 afternoon we ll have the opportunity to explain our favorite games to the museum's visitors and
inspire new players. We will do it not only in French but also in other languages (german, italian, english,
spanish, etc.), the audience is often multilingual. We might organize groups of 4-5 persons in slots of 1
hour, for those who agree.
Costs
The registration fee includes 3 meals at the museum with main course, buffet, fruits,
beverages, plus coffee/tea the whole day.
You have to add one more meal (lunch at Coop Restaurant, about 15€) and the accommodation: the
cheapest hotel is at 45-60€/night (www.abaca.ch), or you might find something at similar prices also in
Airbnb and similar sites; on demand I might also ask some local players if anyone would be available to
host some players for a couple of nights).
Organizers
Registrations
Registrations are open until 9 October. After that, if there will be still places, we might extend the
registrations but with an additional fee.
Sponsor
Studio Supernova/XV Games